Character:
Marta Garnica
Directed by:
Jota Linares
Written by:
Jota Linares and Paco Anaya
Produced by:
Israel Mendoza, Juan Casado and Vivien Quetglas
Other cast:
Pol Monen, Jaime Lorente, Andrea Ros, Abril Zamora, Celia de Molina, Nico Romero...
Release date:
April 12, 2019
Genre:
Drama
Running time:
1h 33min
Eze, Marcos, Marta and Celeste have created their own universe in a dilapidated shared flat in the capital. But they are neither university students, nor dreamers, nor adolescents, although they are still waiting for that great moment to always remember. Who would you take to a desert island? It is the story of the day they leave that apartment and have to face reality. And it is also the story of the generation of these four friends, their dreams, their successes, their failures, their fifteen minutes of fame and the day that changes everything.
Cast & Characters
---
Pol Monen (Eze), Jaime Lorente (Marcos), Andrea Ros (Celeste Rivas), María Pedraza (Marta Garnica), Beatriz Arjona (Maggie), Abril Zamora (Abril), Celia de Molina (Celia), Ignacio Mateos (Nacho), Bea de la Cruz (Enfermera), Nico Romero (David).
Production Photos
---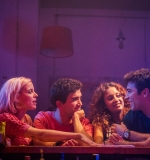 Movie Productions ⎯ ¿A quién te llevarías a una isla desierta? (2019) ⎯
Posters
Movie Productions ⎯ ¿A quién te llevarías a una isla desierta? (2019) ⎯
Behind The Scene
Movie Productions ⎯ ¿A quién te llevarías a una isla desierta? (2019) ⎯
Promotional Shoot
Movie Productions ⎯ ¿A quién te llevarías a una isla desierta? (2019) ⎯
Stills
Movie Productions ⎯ ¿A quién te llevarías a una isla desierta? (2019) ⎯
Screencaps
Facts & Trivia
---
• As Jota Linares explains, this film is "my love and hate letter to my generation. It is a dramatic comedy about young people who have to face the people they have become. A very necessary generational story in our cinema, empty of a film that talks about youth without forgetting those who have already left it behind".
• María Pedraza and Pol Monen starred together in Esteban Crespo "Amar"'s film (2017).
• The film is the adaptation of the acclaimed play of the same name written by Paco Anaya and Jota Linares in 2012.
• This is Netflix's fifth Spanish film, which has already released "7 years" (2016) and "Fe de etarras" (2017), and will launch in 2019 "Elisa and Marcela" by Isabel Coixet, as well as "Diecisiete" by Daniel Sánchez Arévalo.
Promotion
---
Official Trailer
---
Quotes
---
There are no approved quotes yet for this movie.
Awards & Nominations
---
☆ 2019: Málaga Spanish Film Festival ⎯ Best Spanish Film
Critics
---
"This generational drama has a naturalistic vocation, but it abuses the poetic lines of the script."
⎯ El Periódico

"The film confirms the careful style and personal point of view of Linares, which breaks in this adaptation the usual logic of theatrical adaptations."
⎯ Fotogramas

"An honest and generational film, capable of transmitting hope and desolation at the same time, of moving."
⎯ Miradas de Cine

"His text may not be the most original in the world (the game that causes the implosion may be the most debatable of the story), but it does express the power of what has been lived, enjoyed and suffered."
⎯ El País

"Intense coming-of-age drama; drinking, nudity, cursing."
⎯ Common Sense Media

"The confirmation, after the interesting and visceral 'Animals without a collar', that we find ourselves before a filmmaker with a speech and a future ahead of him."
⎯ Cinemanía

"We don't know enough about these four people for the film's revelation to really pack a punch. However, raw performances and Linares' intimate approach make [it] more engaging in its second half than the first."
⎯ Los Angeles Times

"You'll like the talented cast. I'm not sure you'll care enough about what happens to their characters."
⎯ Decider

"The film is at its best as a portrait of a generation."
⎯ Espinof
. . .